Know exactly what you're getting.
We maintain a large inventory of veterinary pharmaceutical products and medications, including flea, tick, and heartworm preventative medications. When you purchase medications from our pharmacy, please know that your pet's medications were obtained from a safe and reliable source, as well as stored under optimal conditions. If you experience any problems with your medication after you return home, please call us for help.
Visit our online pharmacy store and buy flea, tick, and heartworm prevention, prescription, and non-prescription food, as well as thousands of other products and medications at prices competitive with major online pharmacies. All products available online are priced less than we can sell in the clinic because the products ship directly to you from our pharmacy logistics provider.
When you order from our online store, the medications come directly from the same pharmacy that we order from in the clinic. The product is legal, in the original FDA-approved packaging, and carries all of the manufacturer's guarantees. Most online pharmacies are NOT supported by a manufacturer's guarantee.
Prescription products requiring doctor approval are either approved or rejected based on your pet's medical information. Once approved, the items will ship to you. Prescription items purchased over the weekend, or after business hours, will not be approved until the next business day.
All products, including food, can be shipped directly to your home or another location of your choosing. Simply click on the "Online Store" button on our homepage. If you have lost or forgotten your password, it can be reset and emailed to you. If you have any questions while trying to order from our online store, please feel free to call us at (231) 843-3213 for help. We'll be happy to offer assistance!
Please note: Heartworm Disease is passed on to your dog and cat through the bite of an infected mosquito. In order to purchase Heartworm Prevention medication, your dog must have had a Heartworm Test performed within the past year.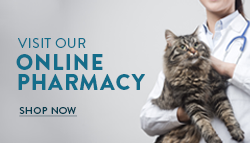 Request a pet medication refill >